ORGANIC FURNITURE DESIGN
Today, more than ever, we need visionary design to invent new ways of living on our planet. We need to question what exists today that either no longer functions, is obsolete or has never worked
in the first place.
The model of the ideal Renaissance city is outdated, it is no longer feasible in today's cities with a high entropic rate. Urban agglomeration composed of different ethnicities and cultures, with the many different social needs and development models, have overwhelmed the urban planning process and prevented the organization and
updating of adequate policies.
Today we must support human unity working together with nature in harmony.
We have to start from looking at where the separation between man and nature first occurred.
We need to consider design in the city that respects nature and interior design that also incorporates this concept.
But what does nature-inspired design mean?
Many objects have been designed with this in mind. Nature was and still is the first model of inspiration. However, it is difficult to create organically designed home or office furniture.
In the object it is easy to combine inspiration with form, with function, with the choice of materials and with the production methods. It is an atavistic approach to work metal in a decorative way and to build tools useful for survival, such as the use of clay for tableware.

Shixiantang garden, Kioto
A table, a chair, a carpet, a sofa individually can be shapes inspired by nature: in the concept, in the use of the materials with which they were made and also in the production process. Instead in the design of furniture, there are many elements needed to combine together and it is difficult to think that they can all have the characteristic of natural design.
In my work I avoid referencing the common place which recalls, for example: cottages, rustic or Tyrolean furniture, unless a project is specifically related to the tradition of the area where this type of housing has developed.
Natural design is often synonymous with banal design and some current design projects have encapsulated precisely this sense of banality, this reductive simplification of a dialectic, which as such, cannot help but present problems.
Shixiantang garden, Kioto
If we talk about organic design, an important cultural reference on the theme is Japanese organic design, which is not a simplistic idea about nature but derives directly from the Shinto religion that also corresponds to the Japanese way of life.
Both Scandinavian and Brazilian design are derived from nature, although in a different way, they are linked and both reflect the poetry of the traditions of the places to which the design is related and connected to.
Natural furniture design, deprived of cultural references, is linked to an idea of simplicity of living, to a bucolic and native place, but it is a trend that has no intrinsic value.
The history of furniture is closely linked to the history of architectural styles.
In the contemporary world with social and life style changes, new parameters have been established in the design of furnishings. When implementing organic furniture into interior design one needs to consider the way one lives in the house, places and areas such as terraces, patios, windows, that reflect nature, which is no longer provided in urban reality, spaces that were formerly green areas are gradually being replaced by traffic and internal pollution. Bringing nature into these apartments is a defence against an excess of anthropization and urbanization that characterizes the city, which has become hostile to human life and all living creatures that populate urban areas.
As we enter into a new historical phase this topic is of great relevance in which the debate must be brought back and a more articulated vision, the type of urban life, the open spaces, the subject of greenery must be rethought.
Natural and organic design furnishings cannot be separated from the broader design that concerns the social, urban context, policies in the area that refers to design choices, all the use of materials and production methods.
Antonio Gaudì, Sagrada Familia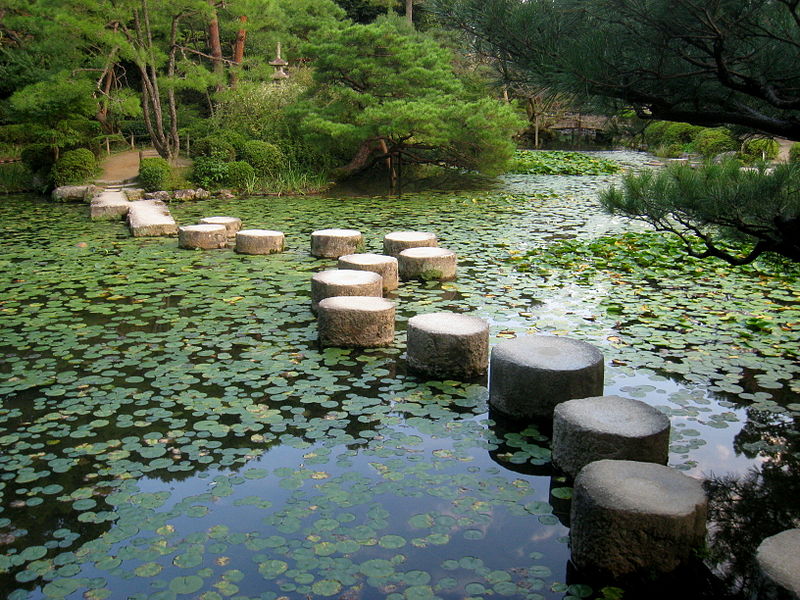 Heian Jingu garden, Kyoto